20.10.2015
Summary of the accreditation of Bachelor and Master's degree programmes
From the time when the accreditation of recognised degree programmes began up until October 2015, AQU Catalunya received a total number of 184 applications (18% of all degrees introduced in Catalonia), 86 for Bachelor-level degrees and 98 for university Master's programmes. The Agency has already processed and processed 61% (113) of these applications. The following graph shows the applications submitted and the accreditation reports issued according to university.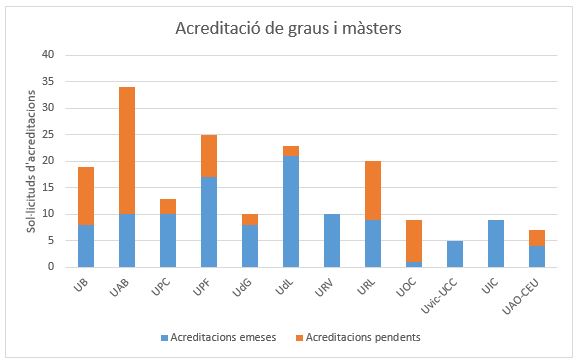 In terms of the outcomes, there was only one Bachelor-level programme that was not granted accreditation, with all the rest receiving a favourable accreditation report. 7% of the degrees were awarded accreditation with excellence, while accreditation for 10% was favourable subject to conditions, in which case each programme has to submit a monitoring report within two years demonstrating that the shortcomings identified have been remedied. The following graphs show the results according to university and the overall results.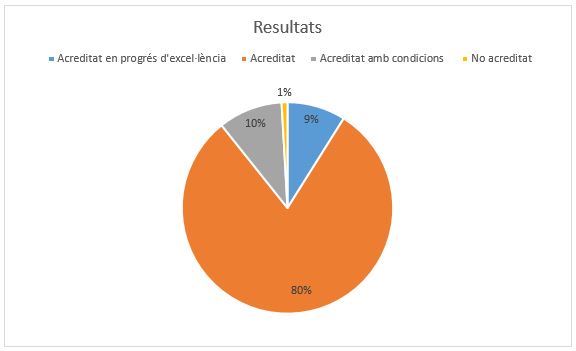 With regard to the assessment of the dimensions, in all cases the most common assessment was "compliance". There were however significant differences across the dimensions assessed. Public information was the dimension most highly rated, with 27% of programmes being in compliance with a higher level of quality. At the other extreme, the effectiveness of the internal quality assurance system was ruled as being subject to conditions in the case of 29% of the programmes, meaning that compulsory corrective (enhancement) actions will need to be implemented.