25.10.2012
Meeting with the vice-rectors in charge of quality and academic governance at Catalan universities
A meeting was held between AQU Catalunya, the vice-rectors in charge of quality and academic governance, and the QA technical units at Catalan universities to assess the progress being made in the review of recognised programmes.
The Agency presented the results of validation and modification carried out last year, the estimated number of programmes to be reviewed next year, the actions to be implemented in order to simplify these processes and the initial proposal for indicators for the follow-up of doctoral programmes.
During the session, which was held on 23 October, the project to launch the fifth graduate destinations (labour market outcomes) survey, which is to be carried out in 2014, was also dealt with by AQU Catalunya and the university officials.
AQU Catalunya also presented the student satisfaction survey project at the meeting. In this regard, agreement was reached between the vice-rectors, QA technical units and the Agency for workgroups to be set up to review the content and define the methodology for the field work.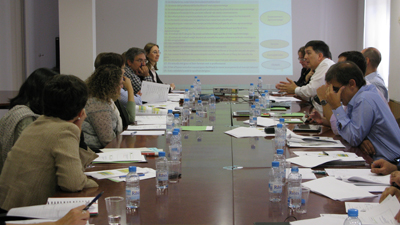 The meeting was held on 23 October at the offices of AQU Catalunya