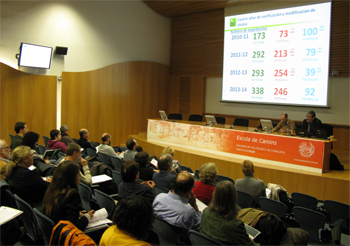 The director of AQU Catalunya, Martí Casadesús, explains the salient aspects of programme review.
A training course was organised by AQU Catalunya for the approximately fifty people who form part of the Quality Assurance Commission's (CAQ) special review panels, which are responsible for the validation, monitoring, modification and accreditation of university degree programmes in Catalonia.
Problem areas identified during the three years of validation activity by AQU Catalunya and solutions adopted were presented in order for members of all panels to share the same criteria and focus their assessments on the core aspects of proposals for new degree courses.