4.5.2018
INQAAHE 11th Biennial Forum 2018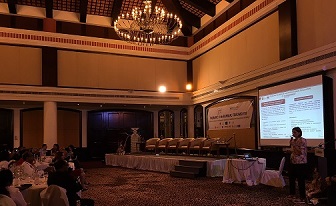 AQU Catalunya is participating in the 11th Biennial Forum 2018 of the International Network for Quality Assurance Agencies in Higher Education: "Quality is in the Eye of the Beholder: Relevance, Credibility and International Visibility", being held in Mauritius.
Martí Casadesús, director of AQU Catalunya and secretary of INQAAHE, led the network's annual general assembly and the meetings of the Board.
Esther Huertas, senior adviser to AQU Catalunya, presented the TeSLA project, together with Anna Elena Guerrero and Xavier Baró, lecturers and researchers at the Open University of Catalonia (UOC). Their presentation is titled Academic Assessment and Trust in Online Provision: Quality Assurance Tools.
Huertas, Guerrero and Baró described QA systems in online assessment, with particular emphasis on the importance of authentication and authorship in the different forms of distance learning and their relevance in terms of trust and credibility in e-learning provision. They also gave a demonstration of the use of the instruments used in the TeSLA project.
More than 150 people from 46 countries are participating in the Forum.