Agència per a la Qualitat del Sistema Universitari de Catalunya
REACU analyses the criteria for the ex-ante assessment
18.11.2010
REACU analyses the criteria for the ex-ante assessment of university degrees and awards
The Spanish network of university quality assurance agencies (REACU) has started work on establishing common criteria and guidelines for the issuance of evaluation reports for the ex-ante assessment of university degree programmes. These criteria are being set in accordance with international standards for quality, together with the stipulations of Royal Decree 1393/2007 of 29 October. The approval and publicising of the document is expected to be made in the near future.
As another way of instigating the use of common criteria in review processes, REACU has just presented the conclusions of a comparative study on the procedures and points systems used for the preliminary assessment of contracted (non-public service) academic staff applied by the various different agencies in Spain.
REACU was set up in 2006 and is composed of the directors of the Autonomous regional quality assurance agencies that review the quality of the higher education system in Spain, together with the director of the national QA agency, ANECA. REACU promotes cooperation and the exchange of experience and collaboration in the promotion of quality assurance.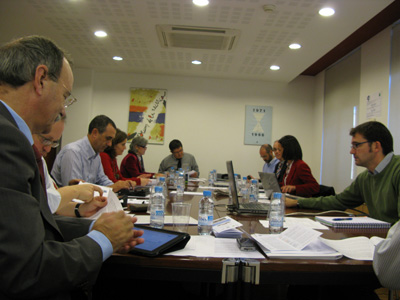 REACU met at AQU's place on November 12th.