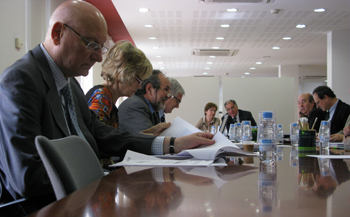 Dr. Joan Rodés at a meeting of the AQU Board of Management.
Joan Rodés award contracts are a homage to the work of the ex-Director General of the Hospital Clínic de Barcelona (2003-2008), who is also one of the leading promoters and director of the IDIBAPS (1997-2008).
Dr. Joan Rodés is currently professor emeritus at the Faculty of Medicine, University of Barcelona (UB), and a member of the Institut d'Estudis Catalans (IEC). He is also the chair of AQU's Research Assessment Commission and member of the AQU Catalunya Board of Management since 2003.