26.8.2019
AQU Catalunya is an associate member of the European CHARM-EU alliance, a higher education innovation initiative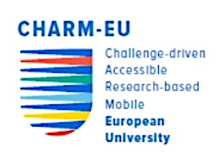 On 26 June the European Commission announced that the CHARM-EU project (Challenge-driven, Accessible, Research-based, Mobile European University) was one of several chosen to form part of the 'European Universities' initiative.
The University of Barcelona/UB is the institution leading the project in an alliance consisting of the Loránd Eötvös University (Budapest), the Trinity College Dublin, the University of Montpellier and Utrecht University. AQU Catalunya is an associate member of the project.
The project proposes an innovative pedagogical approach that consists of a series of learning modules (regarded as credit packs) for a group of between 100 and 200 students to receive an interdisciplinary, challenge-based education.
The objective is to change academic provision through a more transversal approach that offers a multi-disciplinary learning experience to students. Alliance members will pool their expertise, platforms and resources to deliver joint curricula or modules covering various disciplines. These curricula will be very flexible and allow students to personalise their education.
A round table-workshop by the CHARM-EU alliance is planned for the beginning of the September 2019 term that will help define the project. The first pilot modules are planned to be started in January 2021, with the master's programme based on this change in academic provision planned for September 2021.