Agčncia per a la Qualitat del Sistema Universitari de Catalunya
20.6.2016
AQU Catalunya participates in the first face-to-face meeting of TeSLA project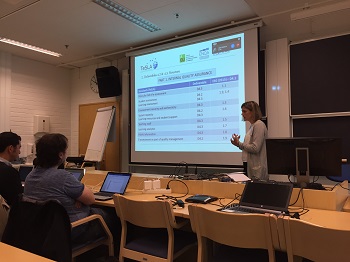 From June 15th to 16th the University of Jyväskylä (Finland) held the first face-to-face meeting of the consortium members that make up the PMB (Project Management Board) of the TeSLA project. AQU Catalunya is one member of this consortium and leads the WP4 (Work Package 4). The main aim of this work package is to cover the quality assessment issues throughout the whole development process and to establish the key elements in virtual learning from a quality assurance point of view in the assessment methods.
The meeting was meant to address different aspects of the project. All members informed of the current status of their working group and raised different views related to the project. However, the main purpose of the meeting was to plan the implementation of the pilots that will begin next September. The first pilot will be developed in 7 universities and will involve approximately 600 students.
AQU and ENQA presented the current status of WP4 (Quality Assurance) and highlighted the importance of the ESG in this whole process. Moreover, future lines of work were contemplated.