14.3.2017
AQU Catalunya taking part in the presentation of the report Towards a Socially Responsible University: Balancing the Global with the Local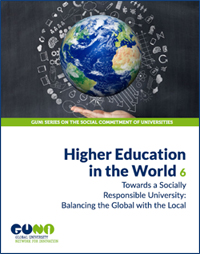 On Friday 10 March, the Global University Network for Innovation presented the 6th Higher Education in the World Report under the title Towards a Socially Responsible University: Balancing the Global with the Local in La Pedrera building.
For the first time after five previous editions, this 6th edition of the report will be freely accessible; therefore, both the university community and all interested parties will be able to download it in electronic format.
During the presentation, emphasis was placed on the need for universities to educate professionals with the capacity to reverse 21st century problems that pose a major challenge: climate change, social inequality, poverty, populist movements, etc. The document asserts that the university has two missions rather than three: teaching and research, on the basis of which the promise to bring about positive transformation in society becomes real. However, universities should not operate in a detached fashion; quite the opposite, they should endeavour to help their local communities address these global problems by providing the crucially international perspective of science in order to bring about action initially within the local realm. Hence the term "glocal" universities: i.e., universities should have local impact and, at the same time, lead in addressing global challenges.
Emphasis was also placed on the present role of universities at a time when groups that are "endangered" or have been "abandoned" by globalisation are championing populist movements. John Goddard highlighted the requirement for universities to work to meet the needs of these groups and he has pointed out that, within academic institutions, accountability should be sought from teaching staff, not in relation to "what they are good at" but rather in relation to "what they are good for" locally.