11.7.2019
Conclusions and enhancement proposals for higher education in the field of the humanities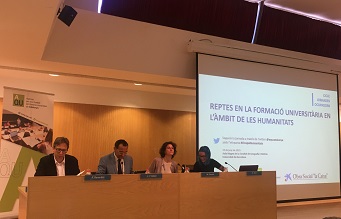 In the picture, the panellists during the round table-workshop
A round table-workshop titled "Challenges in university education in the field of Humanities", was held at the University of Barcelona's Faculty of Geograghy and History on 19 June, as part of the Employers project.
During the round table-workshop a presentation was made of the findings of the survey of employers in the field of the humanities, which includes Philosophy, History, Languages and Literature. In the survey they were asked about the education level and skills of recent graduates in the sector.
Wim Blockmans, Professor Emeritus of Medieval History at Leiden University, gave the keynote presentation entitled 'Not for profit? Reflections on the societal impact of the Humanities'. The academician spoke briefly about the study of the humanities in the past and went on to talk in particular about the necessary focus of future studies in the humanities and the challenges facing these disciplines.
A round table was then organised with Marina Garcés, a philosopher, writer and lecturer at the Open University of Catalonia/UOC; Ferran Barenblit, director of the Barcelona Museum of Contemporary Art/MACBA; and Maria Díaz, a graduate in Spanish Philology and international consulting team leader with Inbenta; together with Javier Velaza, dean of the Faculty of Philology at the University of Barcelona, who chaired the discussion. As such, the round table brought together and covered the points of view of both employers and academics.
The most remarkable conclusions and proposals of the workshop have been detailed in the document Conclusions and proposals for improvement from the seminar "Challenges in university education in the field of Humanities".
Of particular note were:
From the standpoint of employability, it is necessary:

To ensure all graduates develop excellent basic skills
To promote cross-disciplinary skills
To promote external training placements as a stage of training
From the standpoint of social value and curricular innovation, it is necessary:

To dignify humanities
To seek to apply those things we know and those we do not to our current-day problems
To refocus or place emphasis on research in humanities having social impact
To foster the interdisciplinary nature of humanities
To work in conjunction with study programmes from other disciplines