22.6.2016
The IMPALA International Conference held in Barcelona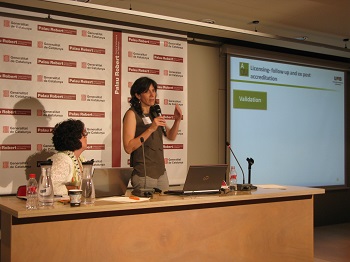 The latest international conference of the IMPALA project, which was organised by AQU Catalunya, was held at the Palau Robert in Barcelona on 16 and 17 June. The conference is an activity included in the project, which forms part of the Lifelong Learning programme funded by the European Union titled "Impact Analysis of External Quality Assurance Processes in Higher Education Institutions: Pluralistic Methodology and Application of a Formative Transdisciplinary Impact Evaluation (IMPALA)", the main objective of which is to improve the knowledge and know-how of all stakeholders about the outputs, outcomes, effects, and (mid- and long-term) impacts of EQA procedures.
More specifically, the project proposes a longitudinal methodology to evaluate this impact in the form of three surveys: one prior to the external review, a second one during the review and a third one six months after the site visit.
The conference included the presentation of the results from four of the participating countries: Germany, Catalonia, Finland and Romania. Various well-known international experts, including Lee Harvey, John Brennan and Maarja Beerkens, also participated.
The presentations made during the conference will be available shortly on this portal.