26.3.2019
INQAAHE 15th Biennial Conference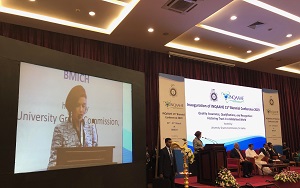 Susanna Karakhanyan, president of INQAAHE, during the inauguration of the Conference
The 15th Biennial Conference of the INQAAHE network, with this year's theme of Quality Assurance, Qualifications and Recognition: Fostering Trust in a Globalized World, was held in Colombo, Sri Lanka, from 25th to 28th March.
Esther Huertas, senior advisor with AQU Catalunya, presented two articles.
The first, "Framework for quality assurance of e-assessment" sets out a framework for the quality assurance of e-assessment, together with the results obtained following its application in various universities that participated in the pilot scheme under the TeSLA project. The framework includes eight standards aligned with the ESG and aims to contribute to improved academic integrity and trust in online provision.
The second, "Quality assurance of e-learning in line with the ESG – what key considerations for student-centered learning?" sets out some of the key outcomes of a recent (2018) ENQA working group report on supporting institutions and QA agencies to account for, yet not compromise the spirit of, two key ESG standards, standard 1.3 "Student centred learning, teaching and assessment" and standard 1.6 "Learning resources and student support", in e-learning.
The meeting of the Board of Directors and the network's General Assembly, both of which were coordinated by AQU Catalunya as host of the INQAAHE Secretariat, were also held during the conference.