16.12.2010
Conclusion of the VSMA Framework presentations at Catalan universities
AQU Catalunya has completed the series of briefings on the VSMA Framework for the ex-ante assessment, monitoring, modification and accreditation of recognised degrees.
Presentations on the Framework were made over a period of two months by the AQU director, Josep Anton Ferré, at all of the Catalan universities, the purpose being to explain the characteristics of the Framework and to obtain feedback from those involved in its implementation.
A total of approximately 840 participants attended, including vice-rectors, deans, heads of department, coordinators of recognised degree programmes, university QA unit technical experts, and managers of academic affairs.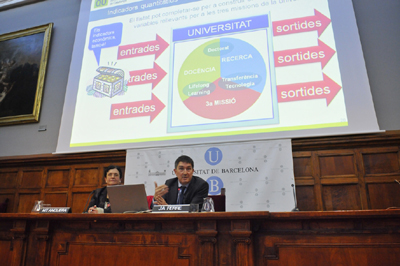 Josep Anton Ferré, AQU director, during the presentation made at the
University of Barcelona. Photo: UB