10.9.2010
Publication of the quality handbook, Research assessment in the Humanities and Social Sciences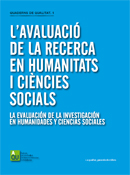 Research assessment in the Humanities and Social Sciences, has just been published by AQU Catalunya. The book is the first in a new collection entitled "Quality Handbooks/Quaderns de Qualitat", the aim of which is to disseminate the main studies produced by the Agency.
The book offers a summary of the more significant contributions made during the "Research assessment in the Humanities and Social Sciences" workshop. In conjunction with other actions, the objective of the book's publication is for the debate started in the workshop to continue at a nationalwide level and thereby bring about improvement to the process of research assessment and evaluation in the Humanities and Social Sciences.
The publication contains three articles. The first deals with the keynote speech at the workshop by Dr. Joan Manuel del Pozo, which contextualises and provides food for thought regarding the assessment of humanistic and social knowledge.
The second article presents the initial results of the study carried out by the Agency on the curriculum profile of non-civil servant tenured academic staff (excluding professors) in the Humanities and Social Sciences. From the analysis of around 5,000 curricula, the study shows the profile of applicants and provides useful information for setting evaluation benchmarks that are common to both subjects areas.
The last article contains the more significant conclusions reached by the workgroups at the workshop.
Published in Catalan and Spanish, a first edition of 2,800 copies of the handbook has been printed for distribution among the scientific and academic community in Catalonia and the rest of Spain.