7.10.2010
AQU Catalunya presents the VSMA Framework for the ex-ante assessment, monitoring, modification and accreditation of recognised degrees to the vice-rectors of the Catalan universities
Prior to its implementation, AQU Catalunya organised a meeting with the heads (vice-rectors) of academic affairs, teaching, academic staff and quality to announce the
Framework for the ex-ante assessment, monitoring, modification and accreditation of recognised degrees
and discuss the areas in which it will have most effect.
During the meeting, the AQU president, Joaquim Prats, made it clear that the role of the Agency will not be that of an inspection body, but to ensure that the system works correctly. Prats pointed out that the VSMA Framework is an instrument meant to enhance the continuous improvement of the universities, in that it will promote the continuity of review through the linking of the four quality assurance processes that all degree programmes have to undergo, namely ex-ante assessment, monitoring, modification and accreditation.
The presentation of the content and implementation in the short and medium-terms of the VSMA Framework to the university vice-rectors was made by the AQU director, Josep Anton Ferré.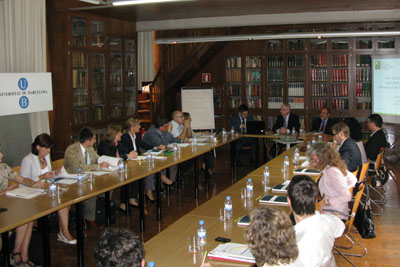 The meeting was held on 5 October at the University of
Barcelona's Sala Ramon y Cajal.