1.12.2015
Inaugural meeting of the Governing Board of AQU Catalunya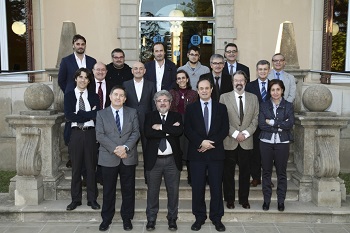 On Monday, 30 November, the inaugural meeting was convened of AQU Catalunya's Governing Board, the body that oversees the Agency's activities, pursuant to Act 15/2015, 21 July.
Amongst other things, the Governing Board is responsible for:
Endorsement of the Agency's action plan (programme of activities)
Setting policies and strategic goals for the Agency
Approving the state of the Agency's accounts (balance sheet, results account and financial statement)
At the meeting, the Board's rules of internal procedure were endorsed, one new aspect of which is publication of the minutes of the meetings.

Rules of internal procedure of AQU's Governing Board
The meeting also saw endorsement of the criteria for members sitting on the Standing Committee; the Agency's proposed statutes, which will be sent to the Catalan government's Executive Council for endorsement; and the setting up of the AQU Catalunya Appeals Committee.
The Governing Board is made up of the following members:
The president of AQU Catalunya (the Catalan University Quality Assurance Agency).
The rectors of the public and private universities in Catalonia.
The chairs of the boards of trustees (consells socials) of public universities in Catalonia.
Three academics of international standing, elected by the Inter-University Council of Catalonia.
Two students elected by the universities' Students Council, preferably one undergraduate and one postgraduate.
Two people from the corresponding government department with jurisdiction over the universities, appointed by the incumbent minister.
The director of AQU Catalunya (the Catalan University Quality Assurance Agency).
The chair of AQU Catalunya's Research Assessment Commission.
Two representatives proposed by the most representative labour organisations that form part of the Inter-University Council of Catalonia.
The secretary of AQU Catalunya, on appointment by the Governing Board of AQU Catalunya at the proposal of the Agency's president, who will attend the meetings of the Governing Board in an advisory capacity.

Members of the Governing Board elected for reasons other than their official position shall be appointed on the basis of their knowledge of higher education and research at both local and international level. The chairs of committees and panels set up by the Governing Board may, at the discretion of the Board, take part in an advisory capacity in board meetings.