3.11.2017
New selection of external experts with technological profile to participate in the evaluation of the third pilot of the TeSLA Project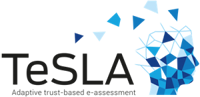 The TeSLA project is looking for experts with technological profile to participate in the external evaluation committees to evaluate the quality aspects of the third pilot, which is being carried out during the course 2017-2018 in seven European universities.
The aim of the TeSLA project is the creation of an e-assessment system that will be able to provide effective proof of student identity and authorship within the integration of anti-plagiarism tools and biometric analysis.
The call will be open from 3 to 24 November (both dates inclusive). Applicants have to send an email to tesla@aqu.cat by 24 November (midnight GMT).
Specific details of the call and the registration form can be found at the following links.
Call

Call for experts - TeSLA (Tech Profile)
Template

CV Template Technological expert
Suscribe to TeSLA-Newsletter for further information on the project.