Agència per a la Qualitat del Sistema Universitari de Catalunya
Course on Student Representation
3.3.2011
AQU Catalunya participates in the Course on Student Representation at the University of Lleida
Organised by the University of Lleida, the Course on Student Representation is taking place during February and March. The objectives of the course are:
To present the Statute of university students.
To provide coaching and food for thought regarding the different aspects connected with student participation at university using a combination of theoretical and practical perspectives.
To provide an opportunity for discussion and food for thought, and to promote the participation of students and associations in the University of Lleida.
To foster the participation of the student body in the University of Lleida's governing and representational bodies and in the quality assurance of education at the university.
The Secretary of the AQU Student Commission and the Agency's quality adviser, Albert Basart, participated in the session on 28 February and presented the paper "Student representation in Catalonia, Spain and Europe".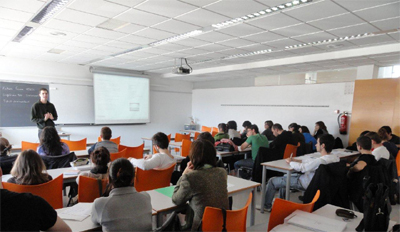 The University of Lleida has organised this course to encourage
student representation and to present the Statute of university students