28.9.2016
Workshop: What is the purpose of external quality assurance?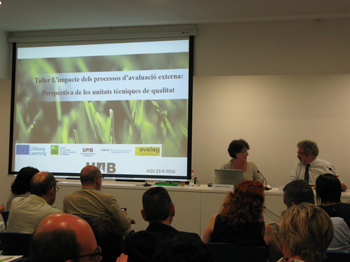 A workshop titled What is the purpose of external quality assurance?, which was organised by AQU Catalunya, was held on Friday, 23 September.
Dimitrios Tourountsis, from the Social Innovation Partnership, gave a presentation on quality assurance and the impact of social policies in the UK and presented the standards of evidence for investigating the impact of Nesta.
Miquel Àngel Alegre from Ivàlua gave a presentation of Ivàlua and the challenges of quality assurance in educational policies, with the example of the review of the "Èxit Estiu" programme.
The impact analysis of external quality assurance in higher education was dealt with by Anna Prades from AQU Catalunya, who presented a summary of the approach used in the Impala project, and Mari Pau Álvarez from the Autonomous University of Barcelona/UAB's Office for the Quality Assurance of Teaching, who looked at this from the perspective of quality units in HEIs.
The round table also assessed the usefulness of external quality assurance from the point of view of QA agencies, represented by Martí Casadesús, the director of AQU Catalunya; from the perspective of institutional management, represented by Josep Ros; from the point of view of academics, by Pere Torra, and that of students, by Andreu Vinyoles.
The workshop was also successful in terms of the number of participants, with around 100 registered participants and a waiting list of thirty.