Agència per a la Qualitat del Sistema Universitari de Catalunya
Quality assurance of institutions and programmes
10.3.2017
Presentation of the IQAS certificate at the UNIBASQ conference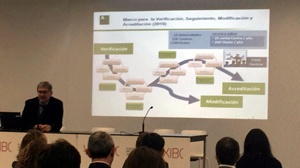 Today, AQU Catalunya director Martí Casadesús has been taking part in the Conference On Certification Of University Internal Quality Assurance Systems organised by the Agency for Quality of the Basque University System (UNIBASQ) in Bilbao.
The director's presentation addressed the internal quality assurance system certification programme (IQAS) implemented by the Agency.
The aim of the assessment for IQAS certification is to verify whether the system has been implemented and is in operation at the institution in charge of running study programmes within the scope of the IQAS, and to ensure it is apt for quality assurance. Consequently, once the IQAS of the respective institution has been assessed and certified, recognised study programmes falling within its scope that must be submitted to assessment procedures while the certificate is in effect for the purposes of validation, modification or accreditation will be exempted from submitting additional documentation on quality assurance systems.