29.10.2014
Resuming of the external site visits for the accreditation of recognised university degrees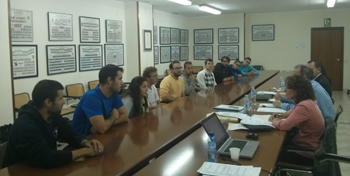 Focus group with the students at INEFC Lleida.
External site visits by external review panels for the accreditation of recognised First and Second Cycle (Bachelor and Master's) study programmes at Catalan universities have been resumed this week.
The external review panel, which consisted of Javier González, Professor of Physiology at the University of León (chair); Alfonso Jiménez, Dean of the Faculty of Physical Activity and Sport at the European University of Madrid (an academic); Meritxell Arderiu, head of the (Generalitat de Catalunya) Catalan Government's Sports Education Unit (professional expert); Júlia Forn, a graduate in Physical Activities and Sports (BSc) from the University of Girona (student member); and Concepción Herruzo, an AQU technical officer (secretary), visited two INEFC schools, one in Lleida (28/10) where Master's degrees in Sports Law, Sport Directorship and Sport Management were reviewed, and one in Barcelona (29/10), where First Cycle degrees in Physical Activities and Sports were reviewed.
The objectives of accreditation are to:
assure the quality of programmes of study being offered, in accordance with the levels of established qualifications and the criteria laid down in the current regulations,
provide valid and reliable information to enable users of the university system to make decisions, and
facilitate the internal quality enhancement of programmes of study and services delivered by Catalan universities.
During the site visits, the external review panel held discussions and focus groups with the management teams, academic staff, students and former students of both schools.