30.4.2013
The Catalan universities presented with the methodology for the accreditation of recognised degrees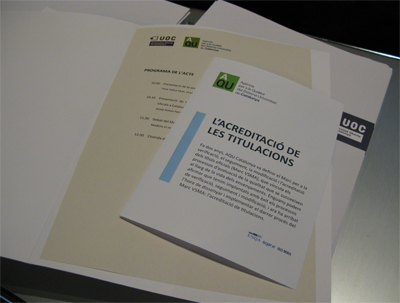 The Open University of Catalonia (UOC) received its first briefing on the forthcoming Guide to the accreditation of recognised Bachelor and Master's degrees, which brought together around sixty participants.
The purpose of the sessions, which are aimed at vice-rectors, deans, heads of university schools and colleges, heads of department, programme managers and the heads and members of university quality units, is to present and discuss the contents of the guide and get feedback from those involved in the actual accreditation of recognised Bachelor and Master's degree programmes.

PDF Acreditació de les titulacions oficials de grau i màster, Josep Anton Ferré, director of AQU Catalunya

PDF L'acreditació de les titulacions
It is worth noting that the Agency has opened a public consultation process in order for all interested parties to give their opinion prior to approval being given for the accreditation methodology.