26.1.2011
Publication of the quality handbook, Working after university. The quality of employment of the graduate and PhD-holder population in Catalonia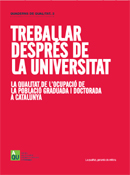 AQU Catalunya has just published Working after university. The quality of employment of the graduate and PhD holder population in Catalonia, the second edition of the Quaderns de Qualitat (Quality Handbooks) collection, the aim of which to publicise the Agency's main lines of work.
The handbook gives an overview of the job situation of the population of graduates and PhD-holders from Catalan universities three years after obtaining their degree from the three previous studies carried out so far by AQU Catalunya (2001, 2005 and 2008).
The publication also includes the results of four studies that analyse the quality of graduate employment, with the emphasis on specific aspects and groups: the graduate population profile, the education-job match, gender differences and, more specifically, graduates with degrees in the Humanities.