Agčncia per a la Qualitat del Sistema Universitari de Catalunya
3.10.2018
Presentation in Kazakhstan of the latest trends in quality assurance and eLearning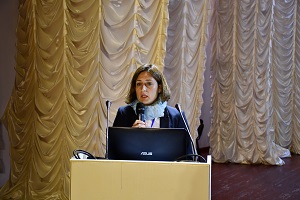 On 20 and 21 September the Independent Agency For Quality Assurance In Education in Kazakhstan (IQAA) organised the First Euro-Asian Forum on Quality Assurance in Education: Forward to the future: Trends, problems and perspectives of quality assurance in higher education. The Forum combined the presentation of papers by different actors, including European QA agencies, the European Quality Assurance Register for Higher Education (EQAR) and representatives of the higher education system in Kazakhstan, as well as from neighbouring countries. The tenth anniversary of the Kazakh agency for quality assurance in education was also commemorated.
AQU Catalunya actively participated in the forum with the presentation of the paper titled "Quality assurance of eLearning: New challenges".
Esther Huertas, project manager with the Agency, presented the paper on new trends in the quality assurance of eLearning. The presentation included the latest results of the TeSLA project, with a focus on the quality assurance of eLearning. Huertas has been leading the TeSLA project work package that deals with the quality assurance of e-assessment processes since the start of this European project.