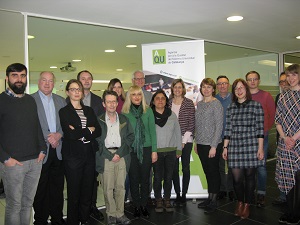 In the picture, the new experts at the second training session
AQU Catalunya, leader of the WP4 (Quality assurance in online higher education) in the TeSLA project (An Adaptive Trust-based e-assessment System for Learning) organized two training sessions for the new experts that will constitute the external evaluation committees in the third and last pilot of the project.
These two training sessions took place at the AQU Catalunya headquarters on January 29 and February 2, 2018, and involved 25 international experts (academics, students, professionals and technical agencies/units of quality). The training was provided by AQU Catalunya, ENQA (WP4/project partners), the UOC (project coordinators) and two members of the Head panel, who have been involved and have followed the previous evaluations of the project. The purpose of the training was twofold: (i) to present the project (characteristics and main objectives) and (ii) to train the experts on how to carry out the evaluation using the assessment methodology, specifically designed in the framework of the project.