16.3.2012
AQU Catalunya participates in the CEUCAT event on the future of the universities
A meeting of CEUCAT, the student council for Catalan Universities, held on the weekend of 10-11 March, brought together students and university authorities to celebrate the council's first anniversary and discuss proposals for ways to enhance higher education in Catalonia.
Those participating included the Secretary for Universities and Research, Antoni Castellà, the rector of the University of Barcelona, Dídac Ramírez, the rector of Ramon Llull University, Esther Giménez-Salinas, and the CEUCAT chair, Jordi Codony, amongst others.
AQU Director, Josep Anton Ferré, who presented a paper entitled Quality assurance and student satisfaction at Catalan universities, stressed that the awareness and understanding of the students' opinions is highly important for improving both class teaching and degree courses.
CEUCAT is a coordinating body for all the student councils in Catalan universities, and was set up one year ago by the government, rectors and students.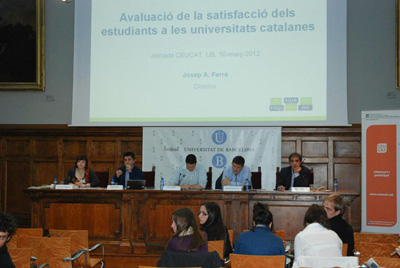 The AQU Director stressed the importance of the awareness and
understanding of the students' opinions in improving higher education.
PHOTO: CEUCAT