18.2.2014
Training course for experts on the accreditation of teaching assessment handbooks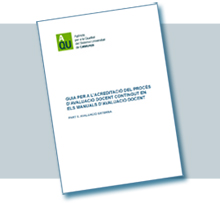 AQU Catalunya organised a training course for twelve people (academics, heads of QA technical units and students from Catalan universities) who have been appointed as members of the external review panels for the reaccreditation of the teaching assessment handbooks used by the public universities in Catalonia. The members of AQU's special committee that deals with the assessment of individual merits and activities (CEMAI) also attended the meeting.
During the course, which was on 12 February, the CEMAI chair, Antoni Blanc, explained the challenges involved in assessing teaching work by academic staff, and the tools and procedure for the reaccreditation of the teaching assessment handbooks were also presented.
The panels will be making site visits to the universities to verify that the handbooks are being used correctly and in accordance with the Guide to the accreditation of procedure for teaching assessment given in the teaching assessment handbooks. External review stage (second edition, 2014). The reaccreditation process is expected to be completed by June.
The private universities in Catalonia use the model provided in the AQU-certified handbooks in the assessment of teaching work by their academic staff.