Agència per a la Qualitat del Sistema Universitari de Catalunya
14th academic and professional guidance sessions in Prat de Llobregat
14.3.2012
AQU Catalunya, at the 14th academic and professional guidance sessions in Prat de Llobregat
Organised by the town's offices of Education and Youth and municipal institutes, the purpose of these sessions is to provide information, guidance and advice to students and their families who are interested in studying at university and the respective job and professional opportunities.
The sessions, which were held on 2, 6 and 29 February and 13 March, involved staff from different faculties and advanced vocational training (FP), in addition to other professionals. AQU Catalunya also presented the outcomes of the Fourth survey on the labour market outcomes of graduates from Catalan universities.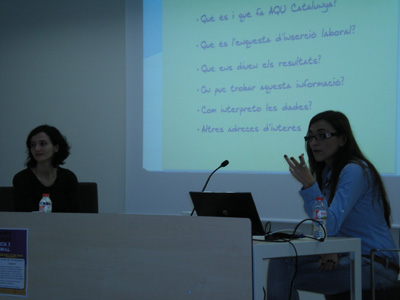 A talk on professional job and career opportunities and university
studies was given by Lorena Bernàldez, one of the Agency's
experts on the subject.