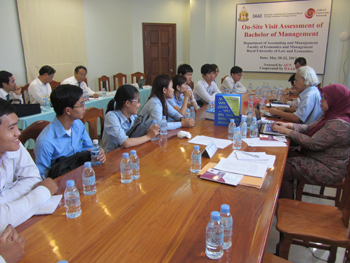 Interviewing students at the Royal University of Law and Economics during the external review.
AQU Catalunya participated in the review of Bachelor degree programmes in Social Work at the Royal University of Phnom Penh and Economics programmes (specialisations in management and development) at the Royal University in Law and Economics in Phnom Penh, both of which are state-run universities in Cambodia.
The reviews were carried out within the framework of the ASEAN-QA project, in which organisations from Europe and the Association of Southeast Asian Nations cooperate in developing quality assurance systems in the countries that form part of the association.