10.11.2016
AQU Catalunya to coordinate ENQA Working Group VIII on Quality Assurance and e-Learning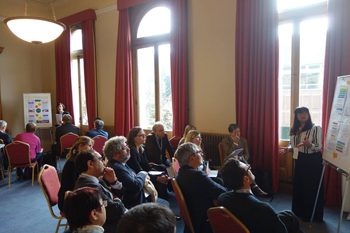 This working group aims to make more clear how online education, which is creating some challenges and increasing the complexity of QA agencies' work as they struggle to determine how this non-traditional form of education can be evaluated using traditional methodologies, can be better evaluated by QA agencies, thereby also helping HEIs to understand and improve their own IQA processes. AQU Catalunya has started to coordinate the activity plan of the working group, in which representatives from 16 agencies from 10 European countries are participating.
The 7th ENQA General Assembly took place at the Gloucester Guildhall in Gloucester, United Kingdom, on 20-21 October 2016 and was hosted by the Quality Assurance Agency for Higher Education (QAA).
During the Assembly, latest developments in the framework of quality assurance in the Asia and the Pacific countries (Zita Mohd Fahmi) were presented, along with the first experiences of external reviews against new ESG (2015), and the challenges and opportunities of digitization and students data portability in higher education (Herman de Leeuw).