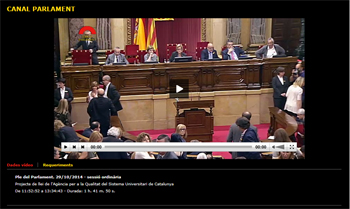 Link to the video recording of the Ordinary Plenary Assembly of the Catalan Parliament. 10/29/2014. Catalan University Quality Assurance Agency/AQU Catalunya Bill. From 11:52:52 to 13:34:43 - Duration: 1 h. 41 m. 50 s.
The Catalan Parliament (Parlament de Catalunya) has accepted the Catalan Government's Executive Council (Govern) bill regulating the Catalan University Quality Assurance Agency (Agència per a la Qualitat del Sistema Universitari de Catalunya/AQU Catalunya) for consideration by the Catalan legislature, with votes in favour from CiU, ERC, PSC, ICV-EUiA and the CUP.
The Minister for Economy and Knowledge, Andreu Mas-Colell, explained that the Agency was set up as a consortium in 1996 and redefined by the 2003 Universities Act, but that a specific law was necessary to cover the Agency's current activities and operations.
The bill includes, among the objectives of the Agency, international projection of the Catalan model for universities and higher education; it extends the scope of the Agency's functions; it regulates its governing bodies with the incorporation of students onto the Board of Management; and it also covers the setting up of the appeals committee.