25.10.2011
AQU Catalunya at the ASEAN quality assurance training course
The Agency took part in the QA training workshop organised by the ASEAN, the Association of South-East Asian Nations in Bangkok from 17-21 October. The training brought together a group of quality assurance officers from universities, agencies and ministerial bodies in charge of external quality assurance from Indonesia, Malaya, Thailand, Cambodia, Philippines, Timor, Brunei and Vietnam.
The group of European trainers included the German accreditation agencies for programmes in Engineering (ASIIN) and Business Studies and Economics (FIBAA), together with AQU Catalunya, on behalf of ENQA.
The training course, which is funded by the German Rectors Conference (HRK) and the German Academic Exchange Service (DAAD), forms part of a larger project that aims at fostering convergence between the various systems of higher education in the ASEAN region and developing capacity in the field of quality assurance.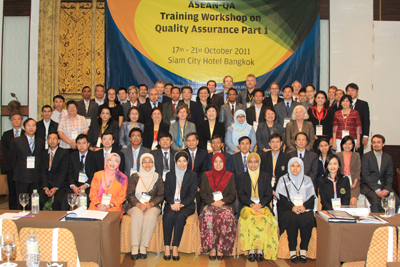 The participants in the quality assurance workshop organised by ASEAN.
Photograph: ASEAN-QA