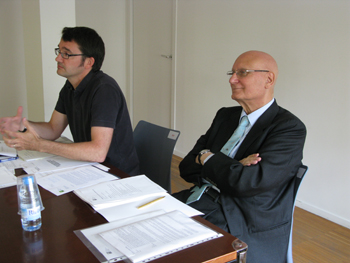 Dr Rodés chairing a Research Assessment Commission/CAR meeting (2012)
Doctor Joan Rodés Teixidor, professor emeritus of the Faculty of Medicine, University of Barcelona (UB), passed away on Tuesday, 10 January.
Rodés Teixidor collaborated with AQU Catalunya from 2003 onwards and was the chairman of the Research Assessment Commission (CAR) up until 2014. Over the course of his mandate he instigated the procedure and setting of the criteria for the assessment of research work by faculty teaching staff at universities in Catalonia.
He was awarded the Cross of Saint Jordi by the Government of Catalonia/Generalitat de Catalunya in 2001 and the National Award for Research in 2006. Considered to be one of the most outstanding hepatologists in the world, he set up the Hepatology Unit at Hospital Clínic in 1968.
On behalf of AQU Catalunya, we convey our heartfelt condolences to the members of his family and friends.