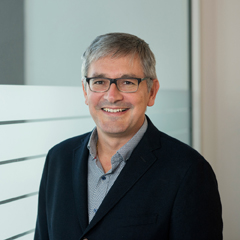 Subsequent to approval by the Agency's Governing Board, the President of AQU Catalunya, Dr. Josep Joan Moreso, has renewed the appointment of Dr. Martí Casadesús as Director of AQU Catalunya for a non-renewable period of four years.
AQU's president considers that the current director has been very successful in undertaking his duties and responsibilities in his first term. Not only has he complied with the principles of merit, ability and competence, he is also the best person to meet the challenges that AQU Catalunya will have to deal with over the next few years.
Dr. Martí Casadesús holds a PhD in Industrial Engineering from the University of Girona and is professor at the same university. He has been the Director of AQU Catalunya since September 2013.

RESOLUTION EMC/1787/2017, 24 July, whereby the appointment of the director of AQU Catalunya was renewed [ca]