On behalf of the public universities, as requested by their Social Councils, and the private universities in Catalonia, AQU Catalunya is to conduct the field work for the seventh survey study of the transition into employment of graduates (graduate employment outcomes) from these universities in the first quarter of 2020.
The study consists of a survey of graduates who completed their university studies three years prior to the study and gathers information on their opinions about their employment situation (current status and quality of employment) and satisfaction regarding their studies.
The analysis of approximately one hundred variables will be used to monitor and obtain evidence for use by university authorities in decision making and for programme enhancement.
The value of the study lies in its comparability in terms of its cross-disciplinary nature (all programmes in the study are covered by the same survey) and length, with the time series extending up to sixteen years in the case of certain undergraduate programmes.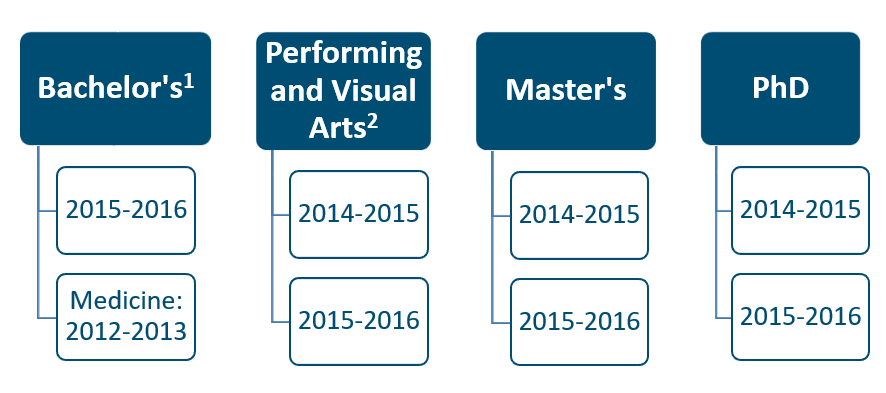 1 Survey for programmes at brick-and-mortar universities and on-line results.
2 Higher education programmes in the Performing Arts and Visual Arts.
In the light of experience and in order to expand the benchmarks, AQU is inviting universities and institutes in the European Higher Education Area that are interested in taking part in the project to contact the Agency (secretariat@aqu.cat) by
30 September 2018
at the latest.
Spin-off products from the survey include:
A database, with the survey results (integrated in cases where the institution has participated in previous editions of the survey)
Publication of the results on a multi-lingual web platform
An indicator-based report and comparison with other programmes participating in the study
Analysis and reports on customised results and findings.
For more information, please see the 2020 survey of graduate employment outcomes and the AQU Catalunya website.