International quality assurance by AQU Catalunya
International quality assurance by AQU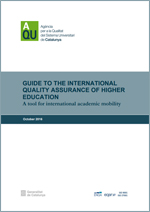 The publication of the guide to International quality assurance of higher education. A tool for international academic mobility falls within the framework of AQU Catalunya's strategy to promote mobility and academic cooperation at international level.
Accreditation will be granted by AQU Catalunya to higher education institutions (HEI) that can demonstrate academic rigour in accordance with European norms and that, at international level, are reliable and trustworthy as a partner institution for cooperation and academic mobility, in particular with institutions in the university system in Catalonia.
The guidebook sets out the guidelines to be followed by institutions that wish to obtain international accreditation, which include the setting of clear objectives for cooperation and academic mobility, the existence of management and quality assurance mechanisms that are fit for purpose for cooperation and mobility, and a systematic approach to the analysis of the results and outcomes of cooperation and academic mobility. It also sets out review and evaluation criteria, accreditation outcomes, the timetable and publication of the outcomes.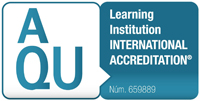 International accreditation of the HEI (faculty, school, department) leads to the award of the "Learning Institution INTERNATIONAL ACCREDITATION" quality label of accreditation.
See the guide to the

Guide to the international quality assurance of higher education. A tool for international academic mobility (October 2016)
For more information contact AQU Catalunya by email qualitat@aqu.cat
Evaluations
Avaluació de programes segons el Marc VSMA
AQU Catalunya avalua titulacions d'altres països seguint la metodologia de l'Agència d'acord amb el Marc per a la verificació, el seguiment, la modificació i l'acreditació dels títols oficials (VSMA).
En aquests casos, AQU Catalunya realitza la visita externa a les titulacions o institucions sol·licitants, i genera l'informe de visita per tal que l'autoritat competent del país sol·licitant prengui la decisió oportuna referent a l'acreditació d'aquestes. A tal efecte, la metodologia derivada del Marc VSMA s'aplica tenint en compte les característiques i el context del país on es realitza l'avaluació.
Concretament, amb l'acord de col·laboració entre el Departament d'ensenyament superior i recerca del Govern d'Andorra i AQU Catalunya, s'han dut a terme el procés d'avaluació externa de les titulacions de la Universitat d'Andorra següents:
20.6.2018