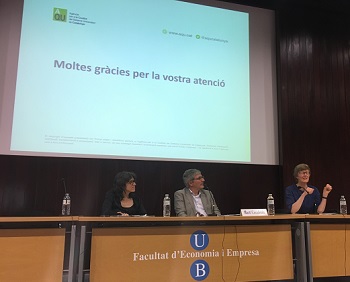 From left to right, Anna Prades, Martí Casadesús and Wendy Carlin during the symposium.
The round table-workshop saw the presentation of the results and findings of the employers survey for the Economics and Business sector, in which they were asked about the skills and the education received by the recently graduated individuals they have recruited.
We counted on the participation of Wendy Carlin, who is Professor of Economics at University College London and researcher at the Centre for Economic Policy Research (CEPR). Carlin gave a key note speech on the challenges of the 21st century and the future for economics and business education.