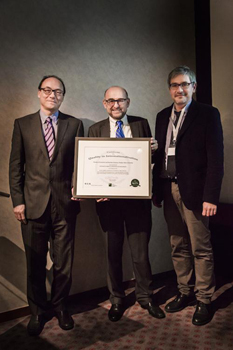 ECA
Around 150 participants from 20 countries attended last month the ECA Conference "Assessing the Quality of Internationalisation" in Paris, France.
The conference focused on quality in internationalisation and answered the most pertinent questions from a quality assurance perspective. In the framework of the CeQuInt Project co-funded by the European Commission, quality assurance and internationalisation agencies have developed and tested in 12 pilot procedures across Europe a methodology to assess the quality of internationalisation at both the level of programmes and institutions. The overall aim was to provide a methodology to (self)-assess the quality of internationalisation in higher education and to help enhance the quality of internationalisation.
The keynotes and reflections presented the current state of affairs in internationalisation and its potential in the future. The eminent experts provided their perspectives on internationalisation and the development of quality of internationalisation.
A welcome outcome of the developed methodology is that ECA is now able to reward good quality in internationalisation of programmes & institutions. The first eleven Certificates for Quality in Internationalisation were awarded at the conference.