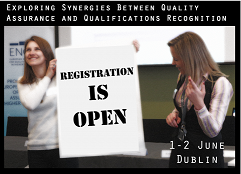 Source: ENQA
On 1 and 2 June, ENQA will be organising a seminar under the theme Exploring Synergies Between Quality Assurance and Qualifications Recognition at the headquarters of the Quality and Qualifications Ireland (QQI) agency in Dublin.
The seminar stems from ENQA's Recognition Working Group and, as a member of this group, AQU Catalunya has been actively involved in the survey addressed to quality agencies that are members of the ENQA, which also forms one of the pillars of the seminar. The Agency has also been involved in designing the seminar and in defining the topics it will address.
The programme is structured into an initial day of presentations and a second day where particular emphasis will be on two working sessions for discussing topics of interest in relation to recognition of qualifications and quality assurance activities, for instance, the latest developments, challenges and best practices. AQU Catalunya will take part by coordinating one of these workshops.
Registration is open and interested parties can log onto the ENQA project website in order to enrol.