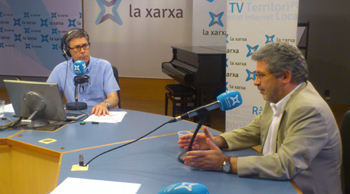 Joan Catŕ and Josep Joan Moreso during the interview.
Josep Joan Moreso was interviewed on Tuesday for the first time since being appointed as President of AQU Catalunya on La Xarxa de Comunicació Local's programme "L'Observatori" (The Observatory), a night-time news programme presented by Joan Catà.
The President explained the Agency's role and activities and also gave an overview of current events and developments concerning the universities in Catalonia.