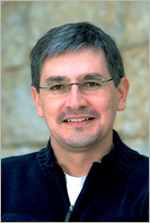 The new director (CEO) of AQU Catalunya was appointed by the Minister for Economy and Knowledge, Andreu Mas-Colell, at the proposal of Agency's president, Josep Joan Moreso, acting on the advice of the Board of Management.
Martí Casadesús Fa holds a doctorate degree in Industrial Engineering from the University of Girona and is professor of the Department of Business Management and Product Development at the same university.
The scope of his work in teaching and research focuses on production management and in particular quality management, a field in which he has published work in different technical journals, including Total Quality Management, the International Journal of Quality and Reliability Management, TQM Magazine and the International Journal of Operations and Management.
He is co-director of GREPP (a research group specialising in product, process and production engineering) and director of GITASP (a research group specialising in technological innovation in production systems), a consolidated research group funded by the Generalitat de Catalunya.
During his academic career he has directed six doctoral theses, participated in twenty-one competitive research projects, five of which he was the head, and nineteen research projects with institutions, nine of which he was the head. He has published nine books on research, forty-four articles on research in ISI-JCR journals, as well as another sixty-eight in other journals; he has also made eighty-eight contributions to congresses and has received four research awards.
Prior to his appointment as director of AQU Catalunya, Martí Casadesús was vice-rector for Planning and Quality at the University of Girona.
The director of AQU Catalunya is the head of the Agency and represents the Board of Management in relation to the implementation of agreements by the Board. The director's responsibilities include the organisation, management and inspection of the services offered by the Agency, in accordance with the guidelines of the Board of Management. The director is also the legal representative of AQU Catalunya and must implement and enforce the agreements of the Board of Management and its Standing Committee.
At the same time, Martí Casadesús was also appointed as chair of AQU's Quality Assurance Commission.

Resolution ECO/1895/2013, 10 September, whereby the director of the Catalan University Quality Assurance Agency (AQU Catalunya) was appointed [ca]

Resolution ECO/1897/2013, 10 September, whereby the chair of AQU Catalunya's Quality Assurance Commission was appointed [ca]

Curriculum summary [ca]