On 1 October 2013, AQU Catalunya began its service as the Secretariat for the International Network for Quality Assurance Agencies in Higher Education (INQAAHE). AQU Catalunya was selected by the INQAAHE Board of Directors from a competitive pool of applicants to serve in this prestigious role and has proven itself to be an excellent, capable organisation in every task undertaken to date. Prior to assuming the responsibilities of INQAAHE, the Secretariat was hosted by the Accreditation Organisation of the Netherlands and Flanders (NVAO) located in The Hague.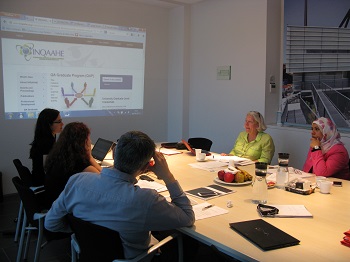 From the moment the agreement to host the Secretariat was signed and the records transferred from NVAO to AQU Catalunya, the new staff members assigned to manage the INQAAHE Secretariat began working hard by responding to emails, managing membership issues, handling complex international financial transactions, preparing newsletters, and learning the back-end issues of a website developed in another country. In addition, they had to learn the personalities of board members, issuing inquiries about procedures for committee work and gentle reminders about issues needing board input and resolution. All of this was handled with aplomb and expertise.

After six months of emails between the Secretariat staff and the INQAAHE president (me), I was delighted when we were finally able to meet face-to-face in early April at AQU Catalunya's headquarter offices for an INQAAHE Executive Committee meeting. The INQAAHE board officers (myself Carol Bobby as president, Jawaher Al-Mudhahki as treasurer and Susanna Karakhanyan as vice president) met with the Secretariat staff (Martí Casadesús Fa as secretary, Concepción Herruzo and Àngels González) over the course of two days. During the meeting, we reviewed every operational aspect of INQAAHE and discussed improvements that could occur in our financial planning and policies, website databases, membership outreach, planning of meetings and communications with external constituents. We also reviewed INQAAHE's strategic plan in connection with decisions made over the past six months. The meeting was productive and professionally satisfying.
The INQAAHE Executive Committee's time in Barcelona was well spent. We returned to our respective home countries knowing that the work of INQAAHE was in good hands. We give our sincere thanks to AQU Catalunya for its willingness to share its organisational space and staff with INQAAHE and especially for the good work of Martí, Conchita, and Àngels!