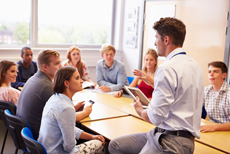 As you may know, pursuant to the Catalan Parliament's passing of Law 15/2015, 21 July, dealing with the Catalan University Quality Assurance Agency (AQU Catalunya), the issue of reports for tenure-track junior lecturers now comes under the jurisdiction of the Research Assessment Commission, and the CLiC Commission that up until recently was responsible for tenure-track and collaborating teaching staff (non-civil servant, non-PhD junior lecturer and auxiliary teaching staff) at Catalan universities has consequently now been dissolved. Given that all teaching assessment is now concentrated under one commission, the situation is much more rational, operational and logical, and it will result not only in the saving of public funds, but also provide a more comprehensive, complete and progressive overview of the academic and professional careers of teaching staff at Catalan universities.
This doesn't stop me from feeling somewhat nostalgic, however. It's always tough to give up a job in which one has only fond memories, and more so if it has only been for a relatively short period of time, as in my case. My predecessors, Teresa García-Milà (2003-2005) and Maria Lluïsa Hernanz Carbó (2005-2014), were more long-term chairs and, through their work, the commission became consolidated as a key element in the university system in Catalonia, which is something that we will always be grateful for. My time as chairman has been shorter, though sufficient to further consolidate the work they started. Nothing would have been possible however without the unstinting dedication of the members on the commission, the special committees and, more specifically, the committee chairpersons: Mary Josephine Nash Baldwin, Josep Ferrer Riba, Jordi García Ojalvo, Antonio Garcia de Herreros Madueño, Rosa Aligué Alemany and Ferran Casadevall Palacio, to mention just the current ones, while also extending our thanks to the chairpersons who they took over from. The fact that the wheel has kept on turning, and turning smoothly, would also have not been possible without the efficiency, responsiveness and willingness of the staff at AQU, in particular the Commission secretary, Esteve Arboix Codina, who is ever watchful of facilitating and making things easier.
Being totally involved in one of the key review bodies dealing with the assessment of university teaching staff in Catalonia enabled me to gain a detailed understanding of the complexity of the process, along with the rigour with which it is undertaken. The CLiC was established on 26 March 2003 in accordance with article 145 of Act 1/2003, 19 February, which dealt with the universities in Catalonia (the Catalan Universities Act or LUC) and, between then and the present time, it officiated 29 calls for applications (19 for collaborating teaching staff and 29 for tenure-track junior lecturers) with a total number of 11,777 applications received (4,432 for collaborating teaching staff and 7,345 for tenure-track junior lecturers). All together, the CLiC assessed 4,432 applications for reports from collaborating teaching staff, with an overall success rate of 66%, and 7,345 from tenure-track junior lecturers lector, with a success rate of 60.7%.
Among the series of merits taken into consideration in the process of a report on a tenure-track junior lecturer being issued, priority is given to the merits associated with experience in research, which is reflected in contributions to leading scientific journals (through the application of criteria specific to each field) and in general accompanied by relevant contributions to congresses, research stays and internships, technology transfer (where applicable) and other research-related activities. An individual's academic studies and experience in teaching are also taken into account in the assessment. When considering merits and their relative importance, the CLiC would take into account the three essential elements stipulated in the Catalan Universities Act in its definition of the post of tenure-track junior lecturer: i) the start of a career in teaching and research, ii) dissociation from the university offering the post during two years (which the CLiC understands to be associated with research stays at other universities or research institutes), and iii) duration of a contract as tenure-track junior lecturer for a maximum period of up to five years. This means that, in spite of the fact that the post of tenure-track junior lecturer is the initial stage in a person's academic career, there has been an increased focus on applicants displaying merit through their productivity in research and their potential to develop sufficient merit in five years to be eligible for the higher category of senior lecturer. The criteria applied have been adapted to the wide diversity of profiles assessed and the specific characteristics of each field of knowledge.
To sum up, I believe the CLiC has fulfilled its objectives and completed its work. One final comment I'd like to make is that I am particularly pleased to see that the Research Assessment Commission, which is responsible from now on for the review and assessment of this highly important initial stage in the academic and professional career of teaching staff in higher education institutions in Catalonia as a whole, will build on the experience accumulated by the members of the CLIC's different subject-specific committees, following on from the fact that they have all been invited to form part of the new Commission as a result of unfilled posts available as members. For me, the decision to make the change is a wise one.