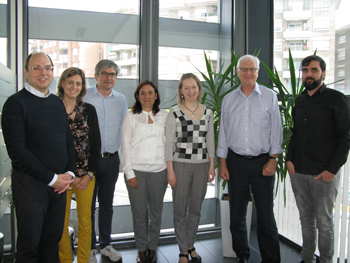 AQU Catalunya held the first face-to-face meeting of external experts on April 25, 2017, in Barcelona (Spain). These experts constitute the Head Panel, which is taking part in the evaluation of the TeSLA project pilots. This panel consists of:
António Teixeira (Universidade Aberta), president / academic
Roger Roca (AQU Catalunya), secretary / expert in evaluation methodology and member of the TeSLA project
Stephen Jackson (Assessment, Research & Evaluation Associates Ltd), panel member / expert in evaluation methodology
Esther Andrés (ISDEFE), panel member / technological expert
Inguna Zarina (University of Latvia), panel member / student

One of the main objectives of the meeting was the review and improvement of the assessment methodology, previously elaborated by the 3 partners in WP4 (AQU Catalunya, ENQA and EQANIE). In addition, the experts analysed different aspects and the results of the execution of the first pilot carried out in the 7 universities participating in the project. The conclusions and agreements from this meeting will be used to improve the subsequent pilots and will contribute to the preparation of a metaevaluation report on the use of the prototype TeSLA system in this first stage of the project.