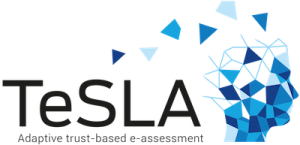 As part of the European framework programme Horizon 2020, the European Commission has endorsed the TeSLA innovation and research project (Adaptive Trust-based e-assessment System for Learning), the objective of which is to define and develop a system that facilitates online examination in such a way that guarantees authentication and authorship at different points in the learning process. In addition to educational aspects (teaching and learning), the project addresses related ethical, technological and legal aspects, such as data protection. It will also be adapted for students with special education needs.
The three-year project is being coordinated by the Open University of Catalunya and has a budget of seven million euros. The TeSLA consortium partnership consists of the following eighteen organisations:
Universities: Open University of Catalunya/UOC (Spain), Open Universiteit Nederlands, Welten Institute (Netherlands), Sofia University and Technical University-Sofia (Bulgaria), Open University: Institute of Educational Technology (UK), Institut Mines-Telecom (France), Anadolu University (Turkey) and University of Jyväskylä (Finland).
Quality assurance agencies: AQU Catalunya (Spain), European Association for Quality Assurance in Higher Education (Belgium) and European Quality Assurance Network for Informatics Education (Germany).
Research centres: University of Namur (Belgium), National Institute of Astrophysics, Optics and Electronics (Mexico), Fondation de l'Institut de Recherche IDIAP (Switzerland) and Imperial College London (UK).
Technology firms: Protos Sistemas de Información (Spain), LPLUS GmbH Company (Germany) and Watchful (Portugal).
In total, a team consisting of around eighty professionals participates in the project, which will involve large-scale pilot tests during eighteen months with the participation of more than 14,000 students from all over Europe.
AQU Catalunya leads the package dealing with the quality assurance of online study programmes in which ENQA and EQANIE also participate. The main objective of the package is the quality assurance of e-assessment processes, the attainment of which will be guided by the new Standards and Guidelines for quality assurance in the European Higher Education Area (ESG, 2015).
AQU Catalunya contributes its extensive experience in both the e-assessment of distance learning programmes and the institutional review of the Open University of Catalonia (UOC). This includes the VIRTUAL programme carried out by the Agency in 2007-2008 involving the review of distance learning programmes and institutions, which was based on the PRO-QU programme review system (pre-Bologna study programmes) and adapted to the unique features of distance learning. It also incorporated international review specifications for this type of study programmes. ENQA on the other hand provides a broader vision of the European standards, while EQANIE offers insight from a more technological point of view as seen through accreditation and quality standards.