Executive summary: Cross-sectional assessment report Master's Degree in Educational Psychology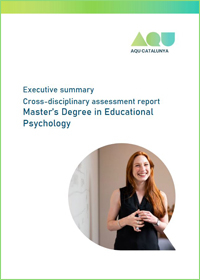 Year: 2023
Language: English
Download document:
Cross-sectional assessment report Master's Degree in Educational Psychology.pdf
(434 kB)
The cross-sectional assessment report on the university master's degree in Educational Psychology has been prepared at the request of AQU Catalunya, and responds to the need to review and assess the development of the master's degree. The university master's degree in Educational Psychology (MUP) is taught in some of the twelve universities of the Catalan Higher Education System (SUC), since the academic year 2010-2011.
The situation of the MUP calls for a change in the strategy followed in recent years, which, based on this cross-sectional report, could be drawn up by a working group or joint committee formed by universities, professionals, graduates, families and other social groups and communities with needs that are usually addressed within the scientific, academic and professional areas of Educational Psychology.
Publication:
Cross-sectional assessment report Master's Degree in Educational Psychology.pdf
(434 kB)
Scroll to top