Internal quality and information security (ISO)
The AQU Catalunya Quality Management System/Information Security Management System (QMS/ISMS)
At AQU Catalunya, quality and information security are an essential factor in assuring credibility and upholding the trust that all stakeholders, universities, the government, other agencies and society in general place in the activities our institution carries out.
AQU Catalonia has implemented a system to manage both quality and information security. This system, which has undergone external certification, is based on the international standards ISO 9001, on quality management, and ISO 27001, on information security management, and allows the organisation to be managed in a systematic and visible way, guaranteeing the accessibility, confidentiality and availability of data.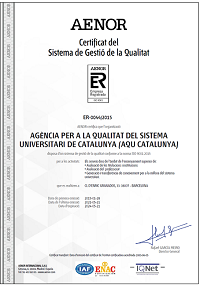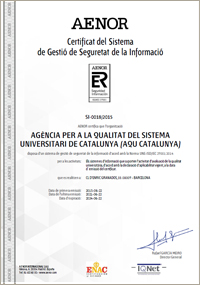 QMS/ISMS policy and manual
AQU Catalunya's policy on quality and information security is a reflection of its strategic decision to continuously improve its activities and adapt to the changes faced by the Catalan university system.
Following its approval by the AQU Catalunya Governing Council, this policy is reviewed annually by the director.

The Quality and Information Security Policy of AQU Catalunya
The Quality Management System/Information Security Management System (QMS/ISMS) Manual describes how this system operates within AQU Catalunya to ensure both the quality and security of the information it works with.
This document is approved and reviewed by the Quality Management and Inofrmation Security Committee.