Summary of the AQU Catalunya Annual Activities and Corporate Social Responsibility Report 2021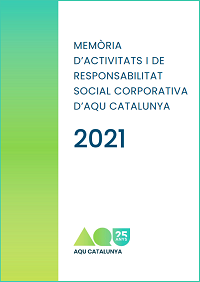 Year: 2022
Language: English
Download document:
AQU Catalunya Annual activities and social responsibility report 2021 - summarised version.pdf
(1 MB)
AQU Catalunya's 2021 Activities and Corporate Social Responsibility Report has been prepared with the aim of reporting to the university community and society on the work carried out by the Agency during the year.
Some of the most important activities carried out in 2021 by AQU Catalunya were:
recognition of AQU Catalunya by the World Federation for Medical Education;
advances with the San Francisco Declaration on Research Assessment (DORA);
assessment of inter-university degree programmes according to the European Approach;
the verification of short-term programmes, and
the establishment of the permanent headquarters of INQAAHE in Barcelona.
Other activities that stand out from the document are:
15% more degree programmes were assessed (520) and 79% more external visits were organised than in 2020 (120).
Two more centres were assessed for the certification of the Internal Quality Assurance System with respect to 2020 and in 2021 ended with 28 institutionally accredited centres.
The institutional accreditation of the teaching assessment handbooks of Catalan public universities was renewed until 2027.
2% more applications for teaching staff accreditation have been processed (2,048).
46% fewer applications for research merit assessment and recognition of civil servant teaching and research staff were received compared to 2020 (460).
7% more applications for research merit assessment of non-civil servant teaching and research staff were received with respect to 2020 (710).
19% more decisions were issued on appeals than in 2020 (182).
The results of the gender survey 20 years after graduation were presented.
The Catalan Talent Observatory was presented.
The EUC website was kept up to date and internet positioning actions was carried out, almost tripling visits since 2020 (60,243).
Publication:
AQU Catalunya Annual activities and social responsibility report 2021 - summarised version.pdf
(1 MB)
Scroll to top