Standards and Criteria for the Quality Assessment of University Bachelor's and Master's Degrees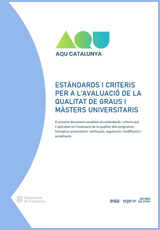 Year: 2022
Language: English
Download document:
Standards and Criteria for the Quality Assessment of University Bachelor's and Master's Degrees.pdf
(962 kB)
This handbook sets out and explains how to apply the standards and criteria for the quality assessment of training programmes, as established by AQU Catalunya in accordance with the European Standards and Guidelines (ESG) 2015, the primary goal of which is to ensure equivalence between the programme taught and European qualification levels.
The main purpose of the quality assessment of training programmes is to verify that the curriculum is consistent with the discipline(s) of the degree, that they are taught and organised appropriately, and that the students have achieved the expected learning outcomes at the end of their studies. But this is not the only purpose of training programme quality assessment. AQU Catalunya's approach to quality assessment is also aimed at identifying degree programmes' strengths, good practices and areas that need to be modified. In other words, accountability and assessment for improvement always form part of AQU Catalunya's assessment programmes. With this specific approach, the aim is for quality assessment to help institutions to develop training programmes of increasing quality and academic import.
In Catalonia, in accordance with the current legal regulations, the quality assessment of university degrees is carried out through four programmes: validation, monitoring, modification and accreditation (VSMA).
Students stand at the core of university educational activities, and they therefore play an important role in quality assessment in all four stages. For this reason, students must play a key role in the decision-making process of the training programme alongside teachers.
Furthermore, there must be processes established for degree programmes to ensure they provide quality training, or failing this they must be included within the university's quality assurance processes. The responsibility for these processes must be clearly established by the centre and the monitoring of training activities must be continuous and systematic.
Publication:
Standards and Criteria for the Quality Assessment of University Bachelor's and Master's Degrees.pdf
(962 kB)
Scroll to top